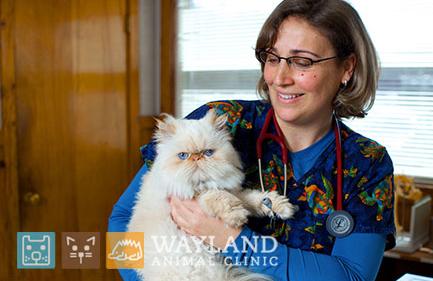 Dr. Caroline Pinsky graduated from the Cummings School of Veterinary Medicine at Tufts University in 1999. She began working at Wayland Animal Clinic in 2005, later purchasing the practice from Dr. Purbaugh in 2010. In addition to the animal hospital, Caroline cares for her own large pack of pets at home. Her two dogs, Kraken and Mungus, are joined by MoMo the African Grey parrot and four cats: Benny, Blue, Goat and Paul. In addition to her four-legged and feathered family members, Caroline is also raising three children and enjoys her spare time reading, hiking with her dogs and spending time with her family.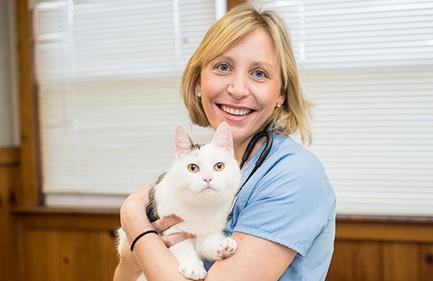 Dr. Emily Bellemare joined Wayland Animal Clinic in 2016 bringing her extensive experience in general and emergency veterinary care as well as her special interests in soft tissue surgery, abdominal ultasonography and preventative medicine. Dr. Bellemare lives in Weston with her husband, and her three children (including twins!) and her cat, Cricket. When she's not healing animals, Emily enjoys traveling, jogging, yoga, snowboarding and being outdoors.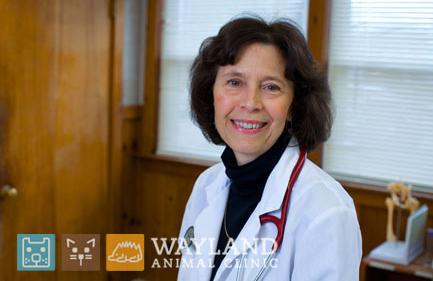 Deb Lynn has been with the Wayland Animal Clinic since 1993, after graduating from the Cummings School of Veterinary Medicine at Tufts University the previous year. Outside the clinic, Deb has an Australian Shepherd named Scarlett, and Sam, an African Gray parrot. When she's not spending time with them, Deb enjoys figure skating and bird watching.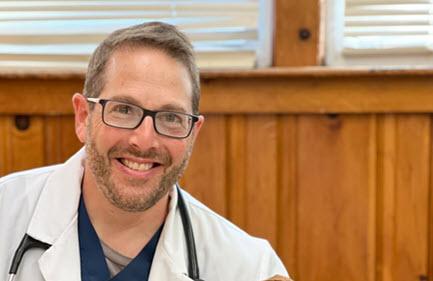 Dr. Boardman graduated from the Tufts Cummings School of Veterinary Medicine in 2010 and has an undergraduate degree in communications from Ithaca College. After 10 years working in local television news, he found it wasn't his true calling and decided to pursue his dream of becoming a veterinarian. Dr. Boardman has special interest in surgery and dentistry.
Dr. Boardman lives with his wife, 2 kids, 2 albino cats, 2 rescue dogs and some chickens. He enjoys exercise and golf. He is an avid Patriots and Yankees fan. We promise you will like him in spite of his baseball allegiance.
Dr Jennifer Dinsmore joined Wayland Animal Clinic in January 2020. She previously practiced in Atlanta, GA after graduating from University of Wisconsin, Madison in 2008. She has a special interest in internal medicine, especially for cats. She lives in Sudbury with her husband, two children, two cats and a dog. In her spare time, she enjoys reading, walking and spending time with her family and friends.