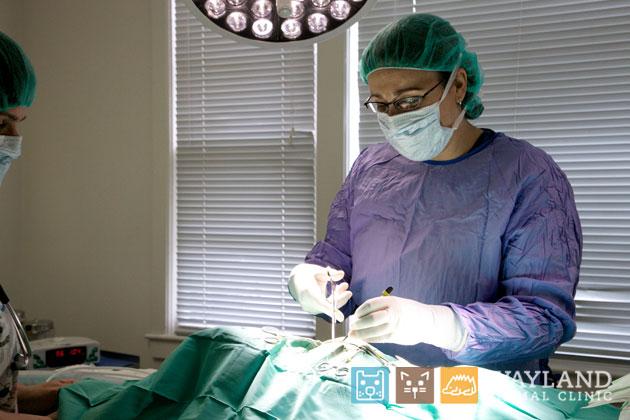 Wayland Animal Clinic is prepared to perform surgery for your pet as the need arises. Our team provides routine spay and neutering, as well as growth removals, abdominal and bladder surgeries, oral and ocular surgeries, biopsies, and other soft tissue and orthopedic procedures.
To ensure your pet's safety we perform pre-surgical blood testing to know that all organ systems are healthy enough for surgery and recovery. We also have a meticulous anesthetic monitoring protocol, which includes:
Respiration, oxygen level, temperature, blood pressure and heart rate and ECG monitoring until our patients are alert and safely recovering
IV catheters and fluids for maintaining healthy nutritional and hydration levels
Appropriate anesthesia medications and careful pain management where indicated
A focus on comfort, taking into consideration the individual species, age, size, breed, disposition and surgical procedure he/she is having. We use warm water or air circulating blankets to maintain comfort in surgery, as well as plenty of soft blankets and quiet, close observation to help minimize any stress upon recovery.